 Hedera helix 'White Ripple'£4.50
Beautifully white margined version of Green Ripple with narrow fingered forward-facing divisions. Elegant and bright, climbs, scrambles and trails well.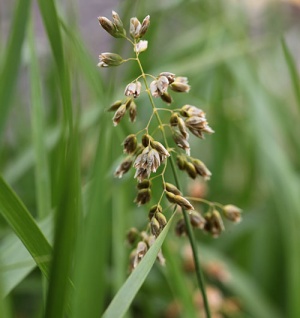 Hierochloe odorata£4.50
Holy or Vanilla Grass - so called because of the sweet scent from crushed or cut foliage and roots - good for strewing on the floor! Creeping tussocks of fresh green leaves and warm brownish flowers to 60cm. Average soil in sun. Molinia caerulea ssp. caerulea 'Dauerstrahl'£6.00
Dense clumps of low foliage and slender upright stems to 1m topped with dark flowers that ripen to a warm bronzey gold. Easy and long lived in good soil in sun.