About Us
Who we are and what we do...
The Plantsman's Preference has been providing quality ornamental plants since our founding in 1996. Offering mail order since 1998 and online since 2000.
On this website we hope to provide you with useful information about our nursery and the plants that we grow including Hardy Geraniums, Ornamental Grasses and a range of unusual, rare and new herbaceous perennials as well as a few shrubs particularly members of the Caprifoliaceae. This website contains our catalogue, with photographs for most plants and enables you to shop securely from the catalogue pages.

We have been growing and selling an extensive range of Hardy Geraniums, Ornamental Grasses and Unusual Perennials in Norfolk since 1996. We are a small retail nursery selling to visitors and at plant fairs and sales as well as by mail order. We send out most orders within 10-14 days of receipt. As almost all of our plants are grown in pots and sent out using next day delivery this enables you to plant when it suits you - hopefully not with bone dry or waterlogged soil!

We are a part of the Norfolk Nursery Network, a group of specialist plant nurseries within Norfolk, and hope that you may find other members of the Network worth a look. See our links page.

It is our intention to provide plants of good quality and to make new, rare and unusual plants available to a wider gardening audience, whilst not neglecting the more commonplace. The majority of plants we grow are easy and reliable to grow and do not need any special care, we have an aversion to plants that need staking or deadheading! They are almost all hardy in at least part of the UK.

While catering for the traditional gardener we are also keen to promote Naturalistic or New Wave style gardening and can provide advice and plants for these relatively low maintenance styles. This can best be done with a visit to the nursery.

The nursery was started as a partnership between:

Jenny Fuller was The Plantsman's Preference Hardy Geranium specialist and an equal partner with her son Tim. Sadly Jenny was diagnosed with non-Hodgkins lymphoma in 2009 and passed away on the 18th September 2010.

The nursery is now run solely by:

Tim Fuller is the Ornamental Grasses and Woodland Perennials specialist. Tim is a member of the Royal Horticultural Society's Floral Trials Panel (since 2008) and Stipa Trial Panel which are responsible for recommending plants to the Award of Garden Merit. During 2009/2010 Tim has taken on the cultivation of the wide range of Hardy Geraniums and will continue them into the future.

With invaluable help from Sally and Midge, and occasional help from Jon and Sue.

Awards


We have been awarded a total of 6 LARGE GOLD, 6 GOLD, 10 SILVER-GILT, 4 SILVER and 1 BRONZE over the years. Oh, and have also been awarded Best in Show at the Suffolk Show in 2011 and 2012.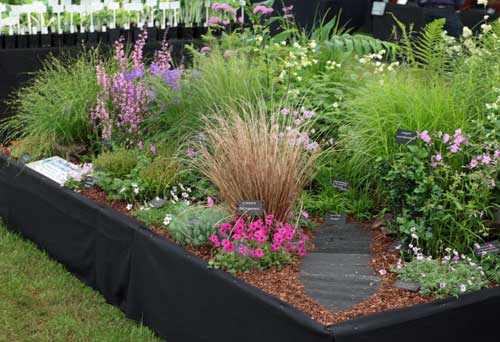 Our Best in Show and Large Gold medal winning display at the Suffolk Show 2012