Visit the Nursery
The best way to see and buy our plants is to visit the nursery!
You can also take advantage of the opportunity to ask lots of questions and receive proper advice about the plants you are interested in!
Due to the Covid-19 epidemic the nursery is now closed to vistors until further notice.
You can continue to collect orders placed online, by email or phone but these must be prepaid and (ideally) placed a day or two ahead of collection but at the very least by 8am on the day of collection. For the time being collections can only be made on Friday, Saturday and Sunday - this will probably change soon.

We are open from the beginning of March to the end of October each year

Friday, Saturday and Sunday 09.30 - 17.00.

Contact us for an appointment at other times
Please note that the nursery is not at the same site as the office. IP22 2LW is the post code to use for the nursery if you have sat-nav or online maps.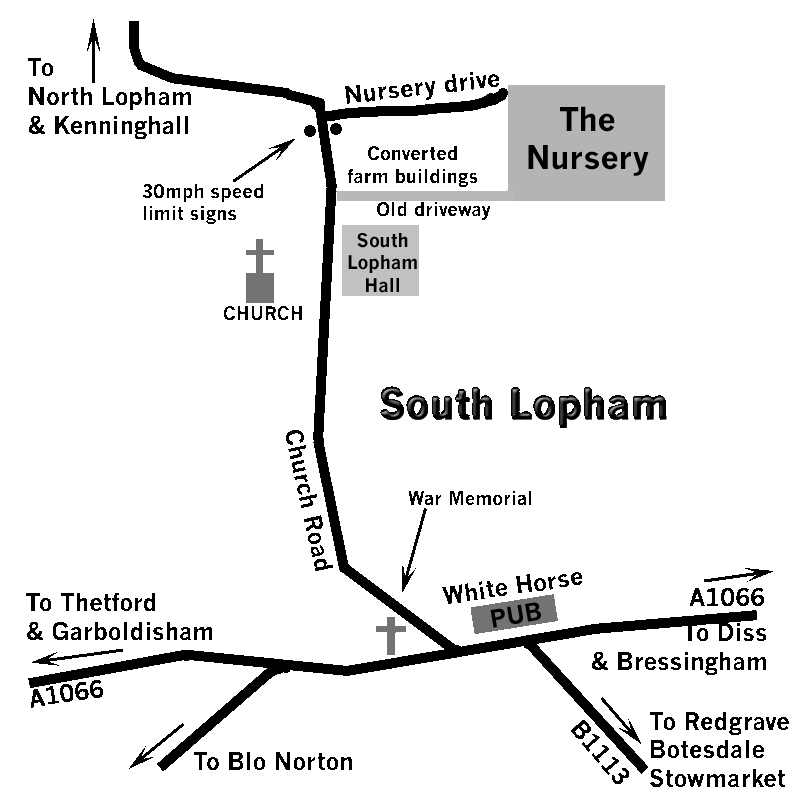 We are conveniently located between the A11 and the A140, just off the A1066 (Thetford-Diss). For those customers in the London area, we suggest taking the M11 north to the A11, to Thetford, then the A1066 to South Lopham. If you get lost, call 07799 855559 to be guided in!
The nursery entrance is just outside the 30mph speed limit on the north edge of the village, about 100m from the church.
Parking is available on the hard-standing just outside the nursery.