Visit the Nursery
Due to the Covid-19 epidemic the nursery is now closed to vistors except by appointment and to collect prepaid orders
. Appointments are available on Thursdays, Fridays and Saturdays.
I hope to resume normal opening from the beginning of March 2021 but note that we will be open on Thursdays and no longer open on Sundays.
To book an appointment please call Tim on 07799 855 559 - this will be the only way to book. Please bear in mind the following before booking:
1. You are booking a time slot (up to 1 hour) to browse and buy plants, not a consultation. If you know what you would like, I encourage you to use Click & Collect instead to keep appointments available for those who need them. I'm afraid I do not have the time to offer my normal level of help choosing etc and also wish to limit face-to-face contact. To allow us time to keep up with other work I need you to pay and leave by the end of your timeslot.
2. "New normal" Covid-19 rules regarding social distancing must be followed - 2m spacing, for now no children and our toilet is not available. Hand sanitiser will be available. If you are unwell do not visit.
3. Max. 2 people per visit.
4. Contactless or card payment ONLY. The new contactless limit is £45 but we accept Apple Pay and Android Pay which can have higher limits.
5. On arrival you may park directly outside our gate (leave room though!). Please wait by our gate for me to let you in.
6. We will have our trolleys available for your use and they will be cleaned between customers.
7. Please only pick up the plants that you buy.
Sorry for all the rules but it's the only way we can do this for now. Mail order and propagation have taken priority during 2020 and I expect that to continue for a while yet.
I currently recommend using the Click & Collect function on this website - choose to collect in the checkout and choose the day you wish to collect.
Thank you for your patience at this time - we appreciate that you want to visit and pick out your own plants as before and hopefully that will come again before long.
Please note that the nursery is not at the same site as the office.
IP22 2LW
is the post code to use for the nursery if you have sat-nav or online maps.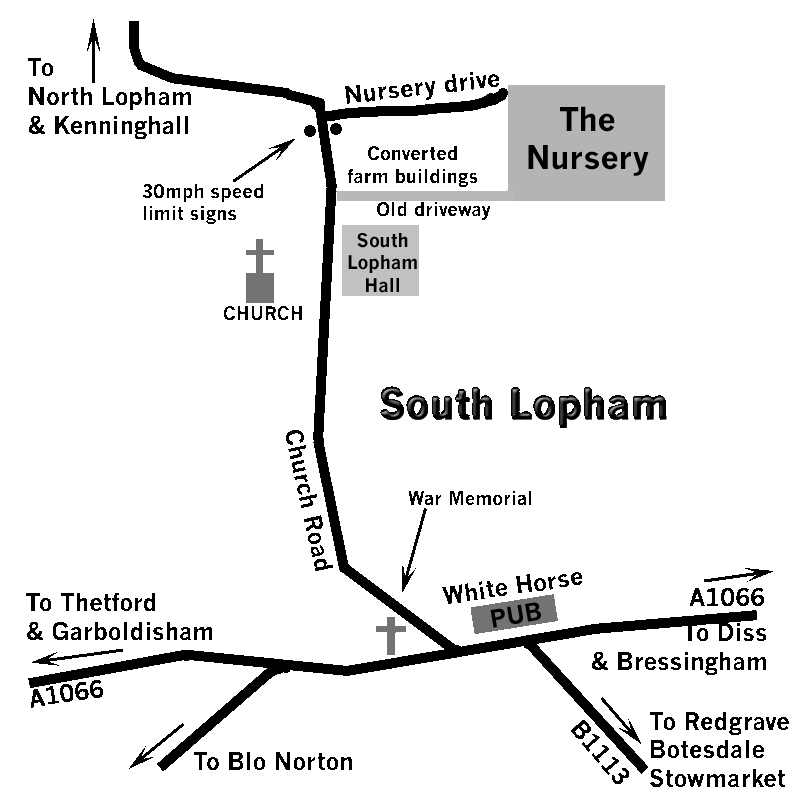 We are conveniently located between the A11 and the A140, just off the A1066 (Thetford-Diss). For those customers in the London area, we suggest taking the M11 north to the A11, to Thetford, then the A1066 to South Lopham. If you get lost, call 07799 855559 to be guided in!
The nursery entrance is just outside the 30mph speed limit on the north edge of the village, about 100m from the church.
Parking is available on the hard-standing just outside the nursery.