 Geranium x oxonianum 'Lambrook Gillian'£4.50
Palest pink flowers with faint, deeper pink veins on typical, medium sized plants to 40cm. Chocolate brown marks on the leaves. Average soil in sun/light shade.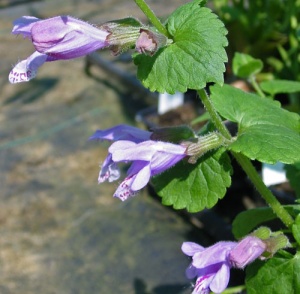 Meehania urticifolia£4.50
An odd scrambling Ajuga relative with mid green foliage and largish spikes of mauve-blue flowers in spring. Charming groundcover for shade. 30cm. A fine plant (if only we were sure of it's name!) that makes neat clumps with large clear blue flowers to 40cm in spring. Very showy. Good soil in sun or light shade.