 Calamagrostis x acutiflora 'Eldorado'£4.50
A striking golden variegated form from the USA. Yellow striped leaves and golden stems with purple-ish flower in May and June, tawny seedheads until late winter. Good soil in sun, 1.5m.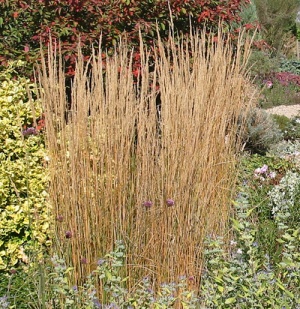 Calamagrostis x acutiflora 'Karl Foerster'£4.50
Often used in naturalistic gardens this is an excellent garden grass. Dense clumps of foliage and tall, upright stems topped with purple flushed green flowers in summer. 1.5m. Ordinary soil in sun or part shade. Good winter effect from the stems and seedheads.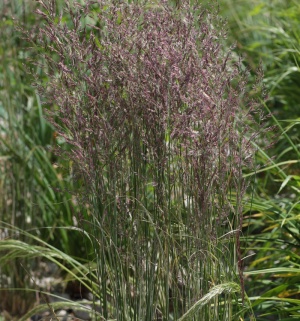 Calamagrostis x acutiflora 'Overdam'£4.50
White variegated leaves, tinged pink in spring make an attractive clump that will produce a column of fluffy flowers that start pink and fade to buff to stand all winter. 1.5m.