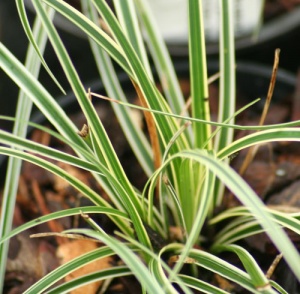 Carex conica 'Kiku-sakura'£4.50
A neat, evergreen, ornamental sedge with white variegated foliage and flowers in early spring to 15cm. Ideal for good soil in shade. Carex muskingumensis 'Silberstreif'£6.50
A sparkling creamy white variegated form of the Palm Sedge for part shade and decent soil that doesn't dry out too much. Deciduous but retains presence overwinter. 50cm. Carex testacea£4.50
A colourful sedge from New Zealand making neat clumps to 30cm. Olive green strongly tinted with bright orange especially overwinter. Evergreen. Best in good (even damp) soil in sun.