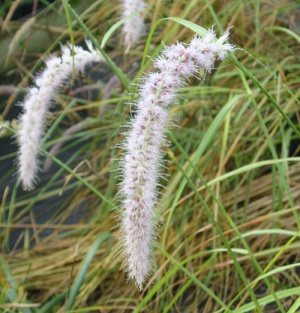 Pennisetum orientale 'Tall Tails'£6.00
A good strong, hardy, form of this deciduous species producing dense spikes of pinkish buff flowers all summer to 1.5m. Much more vigorous than the species, forms a clump. Polygonatum biflorum dwarf form£6.00
A dwarf form of one of the common American solomon's seals. Slightly pleated green leaves and clusters of cream bells with jade green tips. Scented. Decent soil in shade. 40cm. Polygonatum x hybridum 'Weihenstephan'£6.50
A vigorous Solomon's Seal that makes statuesque clumps of greyish green leaves and chunky hanging white flowers tipped jade green in late spring. Part shade or shade, decent soil. 90cm.