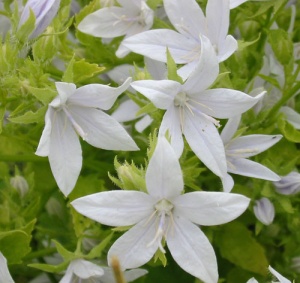 Campanula poscharskyana 'E H Frost'£4.50
Brilliant edging plant with icy blue flowers to 35cm. Low growing, carpeting habit. Full sun or part shade, drained soil. Echinops bannaticus 'Star Frost'£5.50
Spiky globes of silvery white flowers on stems to 1m. Metallic jagged leaves with silvery backs. Drained soil in full sun. Tellima grandiflora 'Forest Frost'£4.50
Clumps of fresh green foliage with silvery marbling and bronze-purple tones in winter. Spikes of apple-green flowers in spring to 50cm. Evergreen. Ordinary soil in shade.