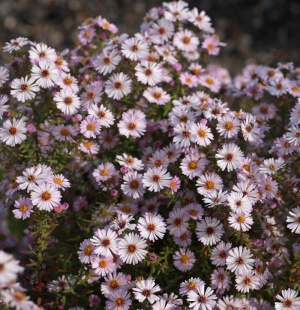 An easy, reliable and tough hybrid (A. novae-angliae x A. ericoides) with arching stems carrying large sprays of thousands of small pink flowers in late summer and autumn. Best cascading down a slope or over a wall. 50cm. Sun. Symphyotrichum ericoides 'Constance'£6.50
Beautiful airy plants with masses of white starry flowers on fresh green bushy stems to 75cm. Lovely with grasses and Chrysanthemums. Average soil in sun. Valeriana montana£4.50
Low growing clumps of fresh green leaves produce heads of scented pinkish white flowers on stems to 30cm in late spring and summer. Good soil in part/light shade best.