Chrysosplenium macrophyllum
2 December 2012 | Admin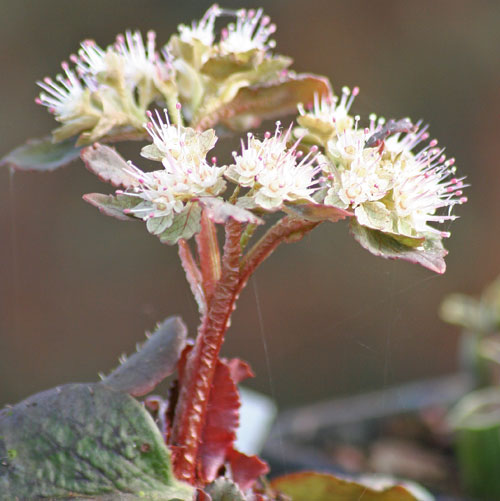 I went out on Saturday to speak to the Cambridgeshire & Bedfordshire group of the Hardy Plant Society and as usual took some plants to sell. One of the more unusual treasures I found to take was Chrysosplenium macrophyllum, I'm sure it has a common name but haven't a clue what it might be! This is one of those unusual plants that I've grown for years but never got round to potting any up to sell before, so the HPS group got the chance to buy the first I've ever let go - and they did, several of them. I'm not sure many of the purchasers knew that much about the plant but saw them selling well so thought they'd better get one before they all went... the best way to get a good plant in my experience!

It makes rosettes of broad, reddish-brown flushed green foliage and heads of green flushed white flowers, with pinkish stamens, surrounded by bracts in late winter. It only gets to about 15cm (6") high in flower and the rosettes of foliage about half that. Bristly stems and runners bearing fat reddish buds pruduce new plants that will root in time.
Best in good, moist but drained soil in shade! Will spread to makje a decent patch in time but it's far too pretty to be a nuisance.
A woodlander from China, in the Saxifrage family and you can see the relation to Bergenias (which are also Saxifragaceae).