 Hedera nepalensis var. sinensis£5.00
A fairly small ivy from south-west China with grey veined leaves, new growth purple-red in spring and summer. Best grown in at least light shade, sheltered.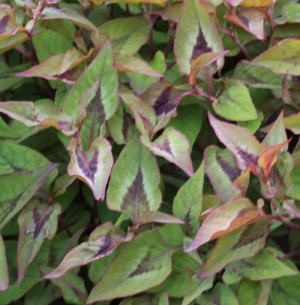 Spreading groundcover for light shade or shade. Foliage emerges green with a dark chevron and turns reddish later in summer. Pinkish white flowers from midsummer. 30cm. (previously sold as P.alata) Persicaria virginiana 'Alba'£6.50
Clump forming with an upright bushy habit. Lovely mossy green leaves with a faint chevron and narrow tapers of tiny white flowers in mid-late autumn. Hardy, deciduous and best in shade. 90cm.