Bloody Cranesbills!
25 April 2016 | Admin
Bloody Cranesbills!
Although The Plantsman's Preference is known for growing a fairly comprehensive range of hardy geraniums there are some species and hybrid groups that we concentrate on more than others. The British native Geranium sanguineum (Bloody Cranesbill) and hybrids of the species with others is one of these specialisms.
In the UK Geranium sanguineum is mostly found in rocky places such as cliffs, hill and mountainside, scree and limestone pavements. The major exception is Geranium sanguineum var. striatum (formerly Geranium sanguineum var. lancastriense) which is a geographic variant found only on Walney Island off the Cumbrian (formerly Lancashire) coast where it grows in sand dunes.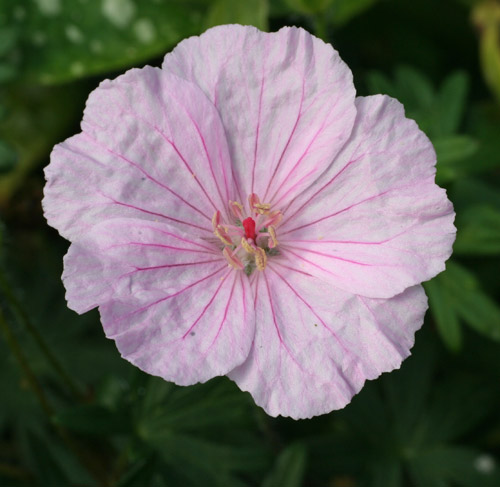 Geranium sanguineum var. striatum
The natural habitat of the Bloody Cranesbill at first makes it sound like a plant for rockeries and alpine gardens only, but in truth it is a very strong, versatile and flexible plant that will thrive in a wide range of places in gardens. It's main advantages are that it has a potentially very deep root system that can find moisture in the most prolonged drought once established because in it's natural haunts it's roots find their way deep into fissures in the rock. It is also happy in full sun or part/light shade so copes in a range of different soil conditions and light levels.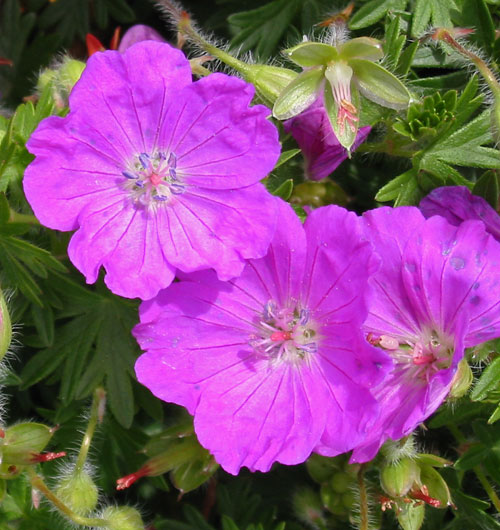 Geranium sanguineum 'John Elsley'
We primarily recommend Geranium sanguineum and it's cultivars and hybrids for the front of the border in a sunny site where the generally low, spreading mounds are most useful. With a wide range of plants now available in this group of cranesbills a wide range of sizes is now available, heights range from 5-10cm up to 45cm, widths of a mature flowering plant from 15cm to approaching 90cm. Clearly some basic research has to be done before choosing a variety to ensure that it's size fits where you want to plant it!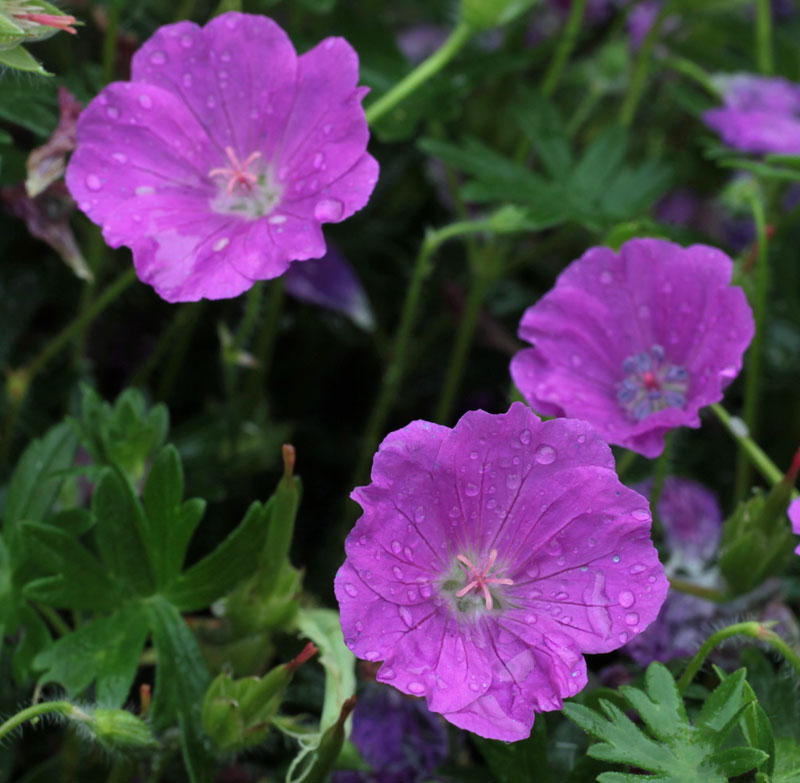 Geranium sanguineum 'Max Frei'
Many of the smaller forms are most suitable for rockeries, screes, raised beds etc and some of the very smallest (ie. Geranium sanguineum 'Little Bead') will suit sinks and troughs too. At the other end of the scale the larger varieties such as Geranium sanguineum 'Glenluce' and Geranium 'Khan' (a G. sanguineum hybrid) are far too large for all except the monumental scale of rockery so are more suitable for mixed herbaceous plantings and also look really good in a mixed planting with fine leafed grasses giving a good natural look.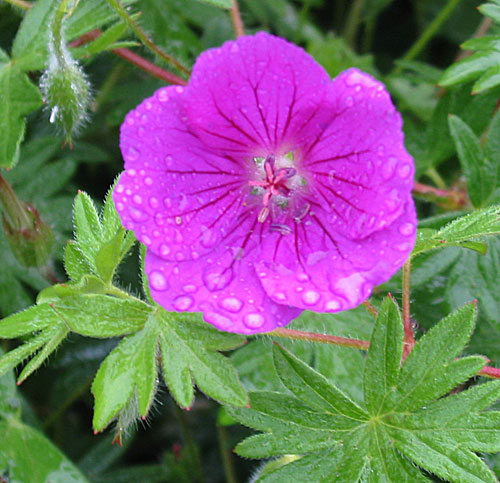 Geranium 'Khan' - Geranium sanguineum x ?Geranium wlassovianum
Although Geranium sanguineum comes from places with sharp drainage it is tolerant of a wide range of soils from relatively heavy clay through to the more expected light sandy and gravelly soils. The line has to be drawn at the very wet soils where the water never recedes, it will tolerate brief flooding but not a prolonged soak.
The forms with lighter, or even white, flowers lend themselves perfectly to growing in light shade under trees such as silver birch where the flowers show up well. In too much shade the flowering will be reduced and the plants tend to get a bit rangy rather than keeping to their normal compact clumps.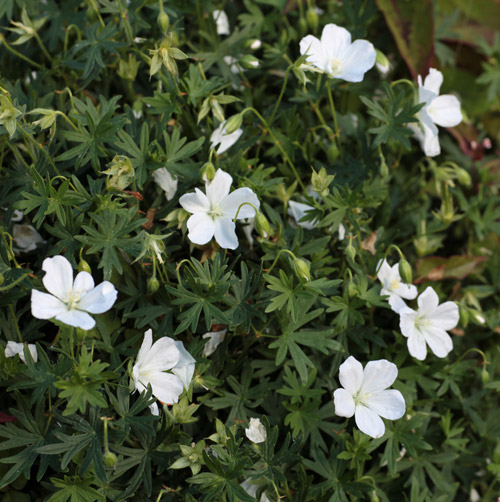 Geranium sanguineum 'Album'
The flowering season of pure forms of Geranium sanguineum usually consists of a main flush from the second half of April until late June, followed by sporadic dribs and drabs of flower until the autumn. Many gardeners prefer to cut the plants hard back, right to ground level, at the end of the first flush which encourages better, tidier, repeat flowering in the autumn commencing 5-6 weeks after the haircut.
You can find our range of Geranium sanguineum cultivars and hybrids here.