November flowers
11 November 2012 | Admin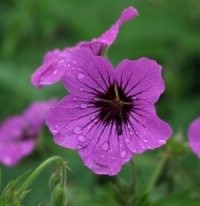 Geranium 'Patricia'
Even though we've had some frosts there are still a number of Geraniums in flower this weekend - the second in November.
Some are re-flowering varieties that would normally flower in spring like Geranium sylvaticum 'Angulatum' and Geranium macrorrhizum 'Album', they even have good autumn foliage colour at the same time! Others include some of the long-flowering modern hybrids like Alan Bremner's 'Patricia' (photographed) and Crûg Farm's 'Dusky Crûg'.

When you add them to all the normal autumn flower and foliage plants that are doing their stuff at the moment it just goes to show that there is still plenty to see in the garden and gives some ideas about planting options for the future.