Winter jobs!
15 January 2013 | Admin
The first proper snowfall of this winter reminds me of some jobs you need to do when you can...
This post is just an excuse to post a few photos of the snow really but there are a couple of useful tips hidden under the snow in them! It's a good job the nursery doesn't re-open until the 1st March as you'd struggle to choose which pot to buy today...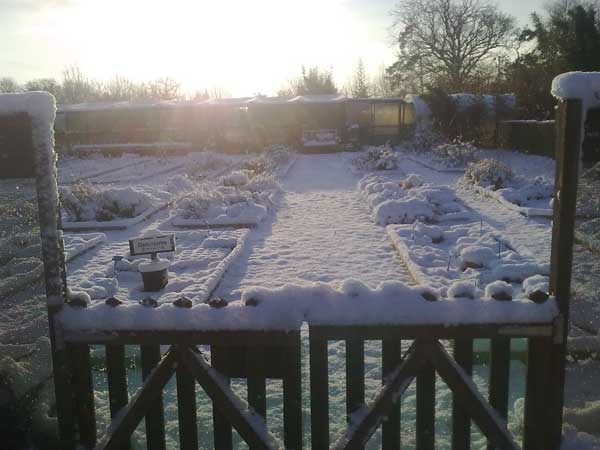 However it does give me a chance to work out how the rabbits keep getting into the sales area - which I thought we had got properly fenced. If you have pests about in the garden it's always worth a quick walk round in fresh snow to see what has been where. I also followed fox tracks pretty much all the way round the site this morning and found two places where they are junping the fence...

I'll have to get something done about that hole in the bottom of the fence as soon as my fingers thaw out enough.
Some things just look pretty until you realise what needs doing. Net tunnel covers are quite stretchy but if this one gets any more on it I'll have to try and sweep it off, not an easy job on your own when it's 28' wide and 10' high, oh, and it's 64' long! The recently pollarded willow windbreak in the foreground looks a little chilly too.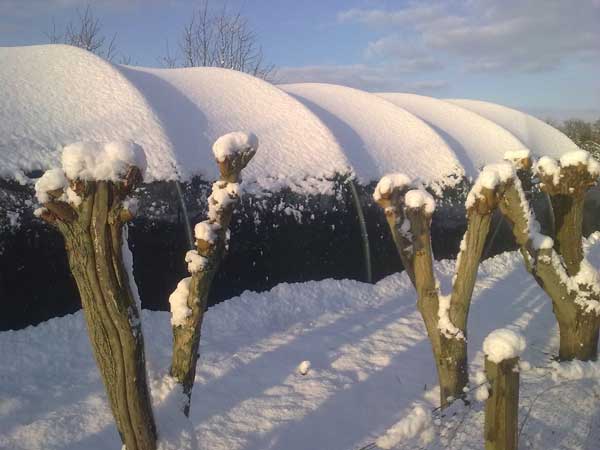 On a serious note the sheer weight of snow on things can cause damage and it's always worth sweeping it off greenhouses, polytunnels and cold frames etc before it gets too deep. Evergreen plants are also at risk, especially broadleaves like laurel and bay. Conifers are notorious for opening up in the middle if the snow starts them off in that direction and with almost any plant the weight can always break branches off. Thankfully it's not usually a problem with bamboos but I did knock the worst off this Phyllostachys just outside the potting shed after I took the photo, just to make it easier to get past... hoping this white stuff doesn't stay too long, I've a talk to go out and give tonight.